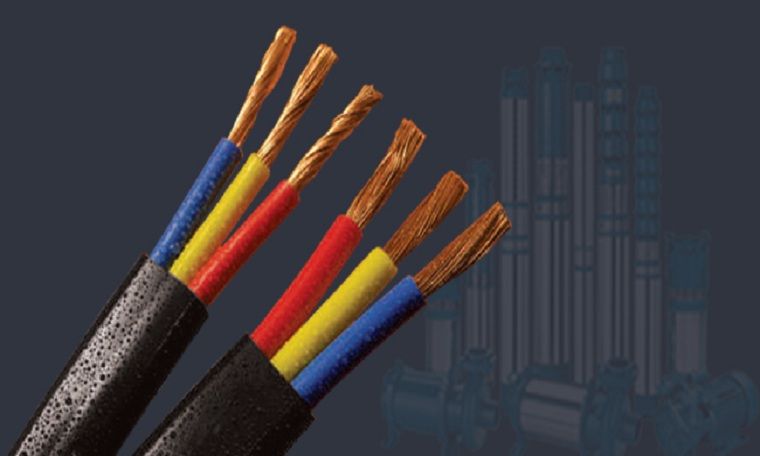 SUBMERSIBLE PUMP CABLES
Tough & Flexible submersible pump cables specially designed to supply power to submersible borehole pumps in a deep borewell.
Loaded with exclusive features of Safety, Power Savings and Long-term Reliability, they are the best performing submersible pump cables on the market today. Tested for toughness and performance, the insulation & jacket will stand up to even the most aggressive wet conditions. Our finely stranded copper conductor has better flexibility and strength for easier handling & installation.
Features

Tough & flexible cable with excellent moisture, abrasion & weather resistance.
Safe, Reliable and power saving.
Excellent Wet Electrical Properties.
1 core , 3 core , 4 cores Flat & Round cables with PVC & Rubber Insulation & Jacket
Available in SQ MM sizes (European style) 1 sq mm to 240 sq mm and AWG sizes (North American style) 14 AWG to 500 MCM.
With sequential Meter / Foot marking.
Various voltage rating for different markets: 450 / 750 V, 600 V, 650/1100 V, 600/1000 V, 3000 V.
Conforming to International Standards IS 694, BS 6500, IEC 60227, DIN VDE 0281, VDE 0282, BS 6007, UL 83, SABS 1574, AS 3191, AS/NZS 5000.1.
Available in wide temperature range: -50°C to 105°C.
Available with ROHS PVC for drinking water pump.
Applications
To supply power to submersible pumps in a deep bore well for
Irrigations
Drinking Water Supply
Mine Dewatering
Industries
Swimming Pools
Fountains
Offshore Drilling Rigs
Sewage Treatment Plants
Sea Water Filtration Plants
Aquariums